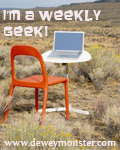 So I'm really late here. Weekly Geeks has started and I haven't had the time to post anything about it!
But I have been reading new blogs and I want to write something about them:

In the Louvre it's a lovely blog. It has a gorgeous graphic design, and the blogger, Michelle, is a very eclectic artist. She has a section for her artistic creations and some stuff is amazing! I loved the modified book and the house.

Bottle of Shine aka The Deus Ex machina complex (and other theories) is a hilarious and crazy blog. I love it! She is also the creator of the tl;dr challenge.

where troubles melt like lemon drops has a delicious title, first of all. And a beautiful header. Her rating system is brilliant too. She doesn't have exactly the same taste in books as me, but it's interesting to read different perspective.

That's it. I plan on keep discovering new blogs by going through the list of of participants, you can never know too many booking bloggers:)


Now for Week #2:
If you've reviewed a book that I have written about you can leave a comment here, or on the specific review and I'll add a link to it. Easy Peasy.
I really like this idea, and I think I would be adopting it in the future, as long as people will let me know they've also reviewed that book.
On my right sidebar you can see the list of books I've read and reviewed. There's also a link to the books I've read in 2007, so feel free to have a look and come back here to tell me if you've reviewed any of those!